Arin Hanson, aka Egoraptor, is a professional voice actor and animator. He displays both of these talents in his videos on Newgrounds which include Girlchan in Paradise and the Awesome Series. Along with these two well known shows added to his resume, he is also the creator of Sequelitis and half of the Game Grumps front men.
He was a contestant on the third season of The Playstation Network's The Tester in 2012, voted in as a fan favorite. I cannot judge anyone on a reality television show due to, well, reality TV. Ergo(raptor... see what I did there?), I will keep his featuring on The Tester merely as a mention. I will say he did not seem to be the "psycho bitch" that every reality show season requires.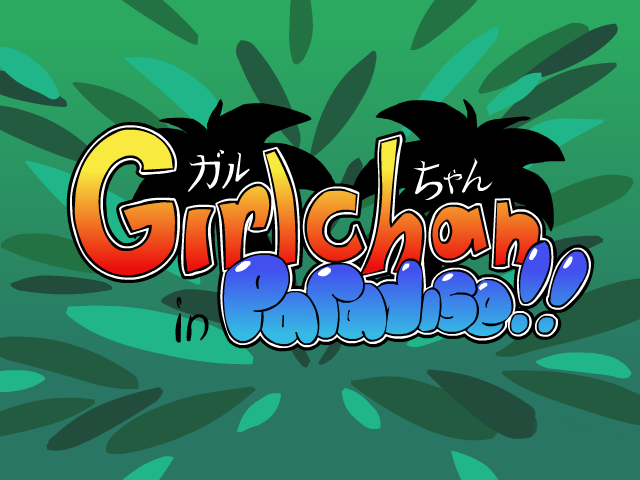 Girlchan in Paradise has only three episodes, but it is the second most well known series made by Egoraptor. The only way to describe it is a cartoon hyperbole of anime that mimics the style of his Awesome Series a tad. I feel this is his weakest creation. Making a parody regarding anime is an overdone concept so I have to expect exceptional quality. Although Girlchan in Paradise has quality, there are a few things off about it. Some of the characters have over the top rhyming names than sound like a cop out and make it hard to keep track of who is who. Whether that was the point or not, it is horribly confusing. I have to hit hard on the story and pacing. Anime is fast and vague, but has to have a story arc even if it is just a parody for the sake of keeping the attention of the audience. Girlchan in Paradise does hit on all the anime tropes and it takes away barely anything from the show, but the writer in me wants to spank him (and not with my yaoi paddle).
The third criticism is something I hate to say. It is the voice acting; mainly one subtle element, Kenstar's rhythm in his speech. Yes, it is supposed to make fun of anime dubs but making the main character have such a voice really brings down the quality. I am not an avid anime fan but from my experience the main characters either have strong outgoing voices or happy-go-lucky and naive tones in their speech. As a professional voice actor I expect better from Egoraptor. It is no Abridged Series, but it easily takes second place.
Alright, I'll end on a more positive note. Hearing him sing the theme song is quite arousing. He has one of those voices that would not impress American Idol, but actually sounds unique, like how real singers are supposed to sound. Kudos to that.
Fans wanted me to touch on Lemon 'n Bill, which is about a bullet and a lemon having conversations in 16 bit video games. Egoraptor's voice acting talent shows best in this show, but there are very few funny moments. The only line that made me laugh was "Why would I want a mushroom from a brick wall?" I have a feeling this is what Game Grumps would sound like without JonTron.
Lightsaber Fightsaber was definitely guy humor. That's all I'm going to say about it (happy Reddit?).
Sequelitis is a show I wish he would continue. There are only three episodes and I want to see more. They are just videos about video game sequels; one of the most common video topics on the internet aside from cats being cats and porn, but he has the upper hand.. Sequelitis is a lot like The Angry Video Game Nerd's videos, but easier to watch long-term. He is funny without being overbearingly raunchy yet clear and to the point about the facts of the game. This is where being a voice actor helps him. To be successful at making these types of videos, you have to speak fast yet be clear. In addition, his animations add a great touch. I think that is why it stands out in the masses of review videos.
Last is his most successful group of videos, The Awesome Series.
I could not say these are bad or even so-so because the entire internet would be at my house demanding a detailed report on my findings. That and the videos are very good. I say "very good", because I find most of them to be in the "not bad" range for my personal taste. Some of the games I have not played; others could have been represented better. In terms of quality content, they are (dare I say it) awesome. The animation style is simple and seems amateur, but it fits the style of parody demonstrated in each video. They are crude like a high school student created them after class, but that's the beauty of it. They are young and fun cartoons that do what they need to do and no more. The videos I do like have me on the floor before the credits. They include:
and
Super Awesome Brothers
Arin deserves his internet fame. I can see clearly why so many people follow him. His videos show off his many talents from his humor and acting to his creative edge. He is never annoying no matter what he talks about and I continue to watch him as he updates his own videos and Game Grumps.