The following question is for those who are unfamiliar with the following image.
Can I get a show of hands please? How many of you recognize this girl? Now do you know what her name is or where she came from?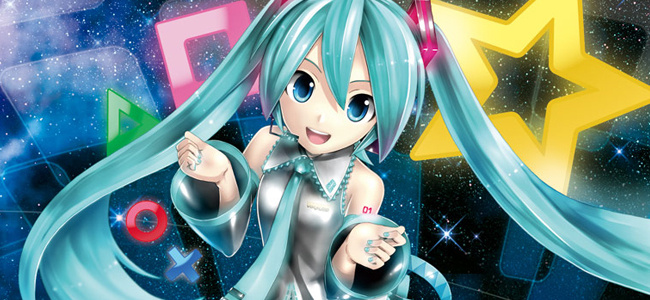 She will be the subject of today as her game on the PS3 was released recently aptly named Project Diva F.
Her name is Miku Hatsune or Hatsune Miku on the last name first basis. She is one of many characters from a series of Japanese Synthesizers known as Vocaloids. Miku herself is extremely popular although there are many more who have their favorites. Miku became so popular that she starred in her own concert strangely
sponsored by Toyota
. She's known for her bubbly personality, but she has been prone to some tiffs
if her face gets messed with
. Now she has a game that came out to the US finally. That game is Hatsune Miku Project Diva F.
I was well aware of Vocaloids, but never found an interest to try out the software mostly because I'm creatively bankrupt. The videos made with the software are vast and creative. When I saw the demo for the game I was morbidly curious so I thought I give it a shot. For some reason or another I quite liked it. At first it took some getting used to since it was different from the usual rhythm game, and I wasn't familiar with Miku's songs. Once I got in the groove, it gave my flashbacks to when
DDRMax2
/
Extreme
were out and all sorts of gooey memories came flooding back. So I waited for a release and here we are. Best thing though, I got it for 21 bucks.
What is Project Diva F about anyway and why should I, meaning you, buy it? Initially I'd say if you have a soft spot for Vocaloids you should try it out, but if you are looking for a robust and complex rhythm game this might be right up your alley. This probably the most moeaty (moe and meaty) rhythm game I've ever seen. Not only do you have the standard fare of songs you can unlock, but also different vanity items and costumes known as modules to play with. That's scrapping the iceberg however.
There's a plethora of game modes to fool around with that will give you your money's woeth. They may seem intimidating at first, but it gets fun the more you try it.
* Play mode lets you play the main course of the game. You have 4 difficulties and the more you play the unlockable songs, you play them on harder difficulties. As you play more songs and clear them you gain what's known as Diva Points. Diva points are the currency you can earn to unlock the aforementioned modules or costumes to dress up Miku and the others in the game. You have your tutorial which will show you the ropes on how to play the game as well as Edit Play where you can edit your own videos using a robust video editor. I would do it, but I'm creatively bankrupt.
* Diva Room is like a virtual dollhouse where you hang out with each of the Vocaloids. Let's for example hang out with Miku. She has a an affnity meter that goes up everytime you do something with her. If you rub her head until a certain point, she'll ask to play a game of rock, paper, scissors. and look the other way. If you win her affinity to you will go up. Give her a gift as well that you use your Diva Points to buy. She likes stuff like sweets and music, maybe the occasional fatty tuna, but who doesn't like fatty tuna? Miku's room can also be customized with themes, furniture and various doodads that will unlock mini scenes that involve said doohickeys.
* Shop lets you use Diva Points to buy various modules which are fashionably doable as well as gifts for your vocaloid of choice as well as other things. The more you play the main game the more items you can purchase. They are a bit expensive though so save up enough as you can.
Gonna give Miku some fatty tuna. Girls love fatty tuna.
* Edit lets you create your own video. You can practically do anything in this mode if you have a better artistic mind to it unlike myself.
* Studio lets you watch live performances in front is a virtual leek wielding auidence of nothing as you can change the camera angle of the "live" performance. Photo Studio allows you to take a look at your vocaloid and put them in poses, but to a certain extent. If you for some desperate reason want to aim for a panty shot you get a rather amusing warning saying simply, "don't do that pervert!"
* Network logs you in to look at other users edited videos. You need a password for some and initially there isn't that much. You can upload yours though.
* Records show how your progress is doing. You can see how your grades are by each of the tracks you play. It includes trophies that you unlock acccidentally mind you sometimes like Easily Flustered where you clear a song with 10 or more cools with the wrong button. I had a good chuckle when I unlocked that trophy. Also in Records you can see how much content you have unlocked over all and can create a nifty profile for yourself.
* Other is options where you can adjust the volume and calibrate your controller in case there's some lag in play. Project Diva F also supports 3D, but only if you have one. It's a nice feature, but again only if you have a 3d tv.
The songs are instantly catchy and easy to pick out which one you like. Here's a top 5 songs I like and dislike.
5. Weekender Girl - aka the Demo song. It's pretty flashy and nice looking. It's what got me into the game.
4. Hachi-hachi Flowery Battle of Kagamines - I know it's obvious that Rin and Len are twins, but the way they sync up together just sounds right. On top of the fact that their modules look adorable. Lastly, Len's solo on the Shamisen is really cool meshing with Rin's modern guitar brings this song to an equal harmony only brought by the Kagamine twins.
3. World's End Dance Hall - This dance battle between Miku and Luka in some nice qipaos in Chinatown. Then they dance on buses until it crashes into a dance hall and start dancing with an entourage until confetti falls down. Then you see them riding dragons. Tell me that's not awesome.
2. Acute - At first I thought to myself, "This song has an NTR feel." Turns out I was right. Why do I like it more than World's End? First perfect mostly, but it flows better despite the theme that I cringe at the most.
1. Senbonzakura - This is just beautiful. The way Miku's movement just ebbs and the song that flows with it just feels right. Yeah, yeah, weeaboo would be what your thinking. So what, sit n spin, I like this song.
Now what exactly could be wrong with this you may ask? Some people may not like the long loading delays, but they have cute fanart to look at so it evens out. Eventually some of the visuals may be too distracting when your going for Chance Time and I did end up getting distracted by part of the song and pressed the right button on the wrong button (Pressing X instead of O). I did get a trophy out of it. Each of the modules are a bit too expensive. If you were to convert Diva Points to something like Zenny, it comes out to unlocking 2 or 3 after 5 songs (20,000 Diva Points = 5000 Zenny). Also, it would be cool to get an english translation of the songs. Romaji is nice and all, but understanding what the lyrics mean is one hurdle people need to overcome and that's just not happening here. Maybe some background info of the songs and the artist like in early installments of DDR, but that would be pushing it.
Each of the songs are great, but there are some duds there. It varies if you like them or not. here are mine.
5. Nyanyanyanyanyanyanya! - File this under WTF and unexpected. The song is exactly as you get. It's nyan nyan nyan for 3 minutes. Of course it's Miku, of course it's a staple that we all know and somehow love about her. Yes, it gave us a flying pop tart cat in space, but seriously?
4. Tokyo Teddy Bear - Don't get me wrong this is a good song, but...excuse me. Sorry, my Yandere alarm was going off. It's pretty brutal on a harder difficulty. Sure you can argue that the hardcore rock is Rin's Raison D'etre, but it's off-putting to me.
3. Rin-chan Now! Ironically I got a perfect on this even though it made no sense. It's all about what Miku and Rin want to do to poor Rin. Plus, if you say it fast it sounds like Pizza Hut. Now I'm hungry.
2. Summer Idol - Beach themed, not my thing. But you get to see Miku and Rin in bikinis so that's always good.
<iframe width="560" height="315" src="//www.youtube.com/embed/kUdxZS9AWeM" frameborder="0" allowfullscreen></iframe>
1. Ashes to Ashes - Nothing against Kaito, he's really cool. However, this just doesn't gel right with me. It wouldn't be the gothic setting that shows hollow out Vocaloid dolls, it just goes everywhere.
Again, this is all based on your tastes.
Project Diva F offers a robust and enjoyable experience that even newcomers to Vocaloid, partially like myself can find something to like. You grow to like each of the Vocaloids even though they aren't real. It's kind of funny how that works. Hatsune Miku Project Diva F is out now and available everywhere. Thanks for actually listening to your consumers Sega.
Pick up a copy from here
. You can thank me later.
Yes, yes, I have to add a leekspin whever Miku is involved. It's practically second nature.
Here
.